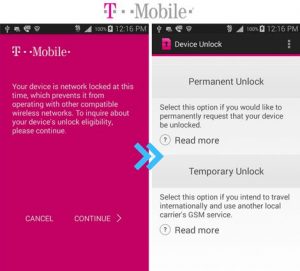 All new smartphones that come in T-Mobile USA and Metro PCS networks have a new type of network blockade that is called Device Unlock App. If your phone has the "Device Unlock" App installed, it can't be unlocked by an unlock code. Once you change the SIM card with any other network provider SIM card, it will not prompt for a "network unlock code." If you insert an unaccepted SIM card into this phone, the unlock request will be shown in this special app.
If you launch the "Device Unlock" App, you will only find two permanent unlock and temporary unlock. Once you press the permanent unlock, the message should appear that the device is not eligible for unlocking.
From this service, you can unlock these types of phones remotely. After unlocking, it will work with any network as you wish.
You may find these types of unlocking app in the following models:
– Alcatel
– HTC
– LG
– Samsung
– Sony
– ZTE